Kategori : ELECTRICITY ENERGY NEWS, ENERGY AGENDA NEWS, GREEN TECHNOLOGY AND INFORMATION NEWS - Tarih : 25 February 2019
France and Germany are pooling efforts to kick-start battery cell production in Europe aiming to take on rivals from Asia which dominate the global market, top officials from both nations said.
Germany will put up 1 billion euros ($1.13 billion) and France 750 million euros in subsidies to co-finance building factories in their respective countries, said Economy and Energy Minister Peter Altmaier and Bruno Le Maire, who is France's economy and finance minister.
The joint initiative brings Europe a step closer in creating a new industry from scratch, Le Maire told reporters in Berlin after a meeting on Tuesday. Factories in Europe will produce vehicle battery packs embedding the entire value chain. The strategy is designed to "ensure global leadership for Europe in both electric vehicle technology and autonomous driving," he said.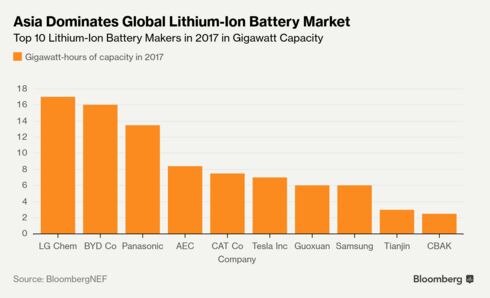 The European market for car battery cells may be worth as much as 250 billion euros a year by 2025, as large as the Danish economy, according to European Commission Vice President for Energy Union Maros Sefcovic.
France and Germany hope to attract Spain, Sweden and Poland to join their initiative, said Altmaier. Paying subsidies to support the construction of the battery cell factories rests on the approval of the European Commission, which will likely make a corresponding decision in April, he said.